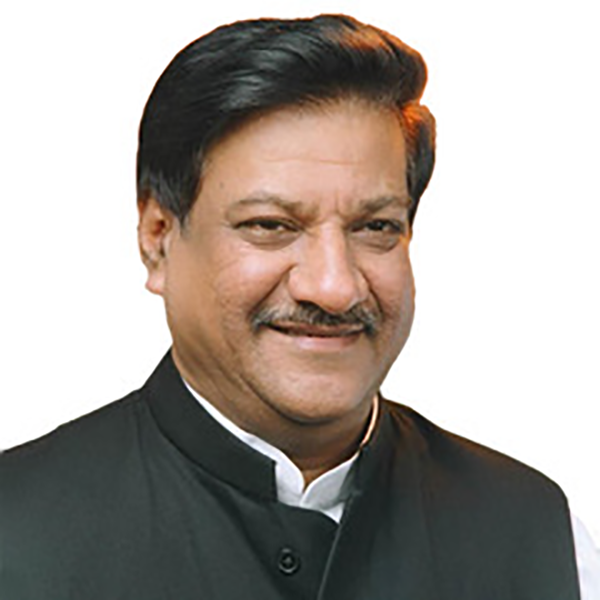 Prithviraj Chavan
Former Chief Minister, Maharashtra / Former Minister of State for Science and Technology, and Earth Sciences, Government of India
Mr. Prithviraj Chavan is a senior Politician from Maharashtra and is at present a Member of the Legislative Assembly, elected from South Karad constituency. Earlier he was a Minister in the National Government. Later he became Chief Minister of Maharashtra State.
Mr. Chavan was elected to the Lok Sabha (the Lower House of the Indian Parliament) from the State of Maharashtra in 1991 and was re-elected to the Lok Sabha in 1996 and in 1998. In 2002, he was elected to the Rajya Sabha (the Upper House of the Indian Parliament) and was re-elected in 2008. Mr. Chavan served on important Parliamentary Committees in the field of Public Finance, Public Enterprises, International Trade, Energy and Technology.
Government positions held: Mr. Chavan became Minister for State in the Prime Minister's Office in May 2004. He was also a member of the Atomic Energy Commission and Space Commission from 2004 to 2010. In 2008, he was given the additional charge of the Ministry of Personnel and the Ministry of Parliamentary Affairs. In May 2009, he was elevated as a Minister of State with independent charge of the Ministry of Science and Technology and the Ministry of Earth Sciences in addition to his previous responsibilities.
He served as the Chief Minister of Maharashtra from November 2010 to September 2014. During 4 years as the Chief Minister of India's 2nd largest state, he initiated many reforms in the field of Urban Development, Planning, Irrigation, Housing and Administration. He is currently an elected Member of the Maharashtra Legislative Assembly.
Party positions held: Mr. Chavan held many important positions in the Indian National Congress Party at the National level.
National Spokesperson.
He was the Secretary of the Congress Parliamentary Party.
Member of the Congress Working Committee (Party's highest decision making body)
General Secretary of the All Indian Congress Committee
Mr. Chavan graduated with honors in Mechanical Engineering from the Birla Institute of Technology and Science (BITS) Pilani. He later got a Masters degree in Engineering from the University of California at Berkeley, USA. He worked in the US aerospace industry as a research engineer for four years. In India, he founded a company to develop defense electronic equipment and special purpose computers for air defense, ASW, missile control and aircraft test equipment. He made significant contributions to the research in the field of Indian language computing.
Mr. Chavan was a Honourary visiting Professor at BITS, Pilani. He has been invited to be an Associate Member of the InterAction Council.
Mr. Chavan is married and has a daughter and a son. He lives in Karad and Mumbai.