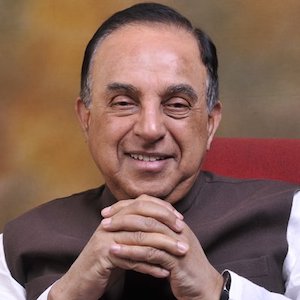 Subramanian Swamy
Politician
Subramanian Swamy (born 15 September 1939) is an Indian economist, statistician, and politician who serves as a Member of Parliament in Rajya Sabha, the upper house of the Indian Parliament. He was the President of the Janata Party until it merged with BJP (Bharatiya Janata Party).  Swamy has served as a member of the Planning Commission of India and was a Cabinet Minister in the Chandra Shekhar government. Earlier in November 1978, Swamy was a member of the Group of Eminent Persons and was called to Geneva, Switzerland to prepare a report of the United Nations Conference on Trade and Development (UNCTAD) on Economic Co-operation between Developing countries (ECDC). Swamy also simplified trade procedures and formulated a new export strategy which became the forerunner of trade reform adopted subsequently. In 1994, Swamy was Chairman of the Commission on Labour Standards and International Trade by former Prime Minister P. V. Narasimha Rao.
He also serves as chairman of the Board of Governors of the SCMS Group of Educational Institutions in Kerala. He has written on foreign affairs of India dealing largely with the People's Republic of China (PRC), Pakistan and Israel. He was nominated to Rajya Sabha on 26 April 2016.
In July 1965, immediately after obtaining his Ph.D. in economics from Harvard, Swamy joined the faculty of economics at the same institution as an assistant professor, In 1969, he was made an associate professor.
Swamy moved to the Indian Institute of Technology, Delhi and he was a full Professor of Mathematical Economics there from 1969 to the early 1970s. He was removed from the position by its board of governors in the early 1970s but was legally reinstated in the late 1990s by the Supreme Court of India. He continued in the position until 1991 when he resigned to become a cabinet minister. He served on the Board of Governors of the IIT, Delhi (1977–80) and on the Council of IITs (1980–82). He also taught economics courses in summer session at Harvard until 2011.
Swamy now serves as Chairman of the School of Communication and Management Studies in Kochi.